Firey Bend
Catalog #13015
Location: Wyoming
The day had been a whirlwind of excitement, and after having spent a few hours with an Elk, I came upon a sighting of a wolf pack. Unfortunately they were too far out to get anything but a glimpse, but I did catch this beautiful sunset shot. In the background to the far right one of the light park fires was burning (the rain during the week had reduced it). Not much of the light is visible here, but when I look at this shot I always remember the wolves in the distance and the fire not so far away.
This is an HDR photograph captured with my 16-35mm lens.
Moose Peephole
Catalog #13001
Location: Wyoming
This *little* guy I found grazing in some bushes next to a riverbed. On this day he was mainly visible through a thicket of bushes that I think frame him in an interesting way, like viewing through a peephole.  
The image is handheld using an 800mm lens on a 5DMIII.
Obscured Majesty
Catalog #Giga-13001

Location: California
This was a perfect winter shot of the famous Half-Dome in Yosemite. I wasn't sure that I would be able to catch this shot, as I was attempting to compose this panorama at 100mm in HDR, which took several minutes. But the clouds were slow moving and the shot came out amazing.
This is a very high resolution (500 megapixel) image with very fine grained detail.
Heated Reflections
Catalog #13002
Location: Wyoming
A beautiful reflecting pool from an active geyser in Yellowstone. Caught at sunset after having an up close and personal visit with a lone Buffalo, I satback waiting for the sun to be just right.
This is an HDR panorama utilizing a 50mm lens.
Ferdinand
Catalog #13003
Location: Wyoming
When I captured this image, I was taken back to my youth, when old Disney cartoons used to play on TV. Ferdinand the Bull, who just enjoyed smelling the flowers. In reality, this guy is more grazing than smelling, but I like to think he was taking a deep whiff of the pretty flowers and then relaxing.
Shot with a 5DMKIII and an 800mm lens.
Abandoned Refuge
Catalog #13005
Location: Wyoming
Taken at an abandoned Park Cabin hidden away at the base of the Tetons, while enjoying a nice glass of scotch. I spent many an afternoon here enjoying the sunset and listening to the dogs/coyotes/wolves howling as darkness takes us.
This is a single HDR image shot a 16-35mm lens.
Mortal's View
Catalog #12003
Location: Vatican City
This a view from the steps of St. Peter during a spectacular morning. The Pope was attending a conference that was being displayed to the patrons during the day via screens on the left.
This is an HDR panorama image taken with a 50 mm lens. Also offered in black and white.
Benjamin
Catalog #13020
Location: California
I have a turkey family that lives not too far from my home. I try to keep track of them and their family of little ones that seems to grow every year. I was lucky enough to capture an HDR image of this guy (HDR of wildlife, especially birds, is extremely difficult). Named after the forefather who wrote, in a letter to his daughter, that the Turkey would have been a better choice for our national emblem.
This is an HDR image, handheld, using a 100-400mm lens.
Predator
Catalog #13016
Location: Oregon
This was one photogenic bird, who was kind enough to let me get close. Bird photography is the most frustrating photography in the world (unless your luring, which I'm not). So when you find one that wants to pose like I'm Cecile Demille is always a treat. The close-up shows that he's recently had a nice dinner, with small bits of his victim still on his beak.
Captured with an 800mm lens.
Bottoms Up
Catalog #13006
Location: Wyoming
It took a bit of waiting for this shot. These very happy ducks were diving up and down to eat every few seconds from the bottom of the river. Funny little guys that I couldn't pass up, so I waiting until they finally synchronized on a dive to the bottom.
Shot with a 5DMKIII and a 100-400mm lens.
Peace In Chaos
Catalog #13018
Location: Hawaii
Next to a little inlet from the ocean where huge waves were crashing into a rocky shoreline, is a quite little waterfall that was streaming into a little creek that runs into the ocean. The rain was quite nice as it rain down on me and my equipment, but I think the shot was worth it.
Shot with a 50mm lens and a neutral density filter.
Completely Faithful
Catalog #13007
Location: Wyoming
It was an early morning for me (and even as a photographer, I hate getting up early) as I needed to get on the road. As I was getting up, I was struck by the fog and the sunrise that was just coming up capturing the Old Faithful geyser that so famously named my hotel.
This is a single frame HDR taken with a 5DMKIII and a 50mm lens handheld (couldn't get my tripod in time).
Catalog #12004
Location: Vatican City
This is a view of St. Peters from Castel Sant'Angelo. It was a beautiful day with just the right puffy clouds in the sky. Though to be honest, I think I was done climbing stairs for the day, my feet were done before I got here. But some of my friends wanted to go inside. They stated "we don't have to go all the way up", but lets be real: of course you do! Because of them, we have this great picture that I think captures a breathtaking view.
This is an HDR panorama shot with a 50mm lens.
Dragon Relics
Catalog #12001
Location: Northern California
Represents the dreams of early Chinese immigrants who used this pier to fish for shrimp that was shipped back to China. Now part of a state park, the pier represents a view into our past. The photo's name comes from the Chinese Zodiac for the year 1880 when the once thriving village began.
The image itself is a HDR panorama taken with a 50mm lens and several stacked neutral density filters to elongate the exposure to even out the waters natural waves.
Interlopers
Catalog #13021
Location: California
I was doing a bit of sailing out into the Santa Cruz bay in the late summer. During the trip the fog rolled in on us and as we reached the "eye", we found one of the marker buoys. Seems that the local sea lions like to use it for a little respite from the cold Pacific.
The image is taken with a 16-35mm and has had the blue removed.
Gold Rush
Catalog #13008
Location: Wyoming
A beautiful sunset in the Lamar Valley, one of just many sunsets that I enjoyed during this week. Behind me a Buffalo heard is approaching as they slowly move away from the river.
An HDR single image shot with a 5DMKIII and an 50mm lens.
Lion Scratch
Catalog #12002
Location: Italy
This beauty was found on one of my long walks. If your a long time viewer of my photography, you'll of course noticed I have an obsession with lion statues. The red markings in his eye caught me when I was walking by and I think he looks great in black and white with only the eye color left in.
Shot with a 16-35mm lens.
First In Flight
Catalog #13017
Location: Oregon
Nestled with an entire family of other Bald Eagles, I managed to catch him in the start of flight. I will release several pictures from this set. If you look closely you can see a red mark in the feathers above his beak, which I believe is blood from his last meal.
The image is captured with an 800mm lens while I froze at 4 degrees during a break in the snow. Don't say I never did anything for you.
Moonlight Haiku
Catalog #13026
Location: California
The image was shot with a 5DMKIII at 100mm.
Untitled
Catalog #13023
Location: Colorado
A beautiful fall shot in Colorado. You never really get time of this time a year in the west where the colors come at you in all directions.
The image is an HDR panorama shot with a 5DMIII.
Spirit Elk
Catalog #13009
Location: Wyoming
I tracked this guy over two hills until we stopped on a third where he decided to lay down and catch a nap. He was kind enough to share the afternoon light with me as we both relaxed with each other for the next two hours, alone to ourselves. He was magnificent and I will be featuring him in several other shots.
And HDR shot using an 800mm lens. 
Starlight Madness
Catalog #13010
Location: Wyoming
I was on my way out of Yellowstone when I decided to stop and take a picture at one of my GPS markers I set during the day for later night shots. I'm an experienced night photographer, but not an astrological one. This is a nice early experimental image.
Shot witha 16-35mm lens front lit by a Ice Light.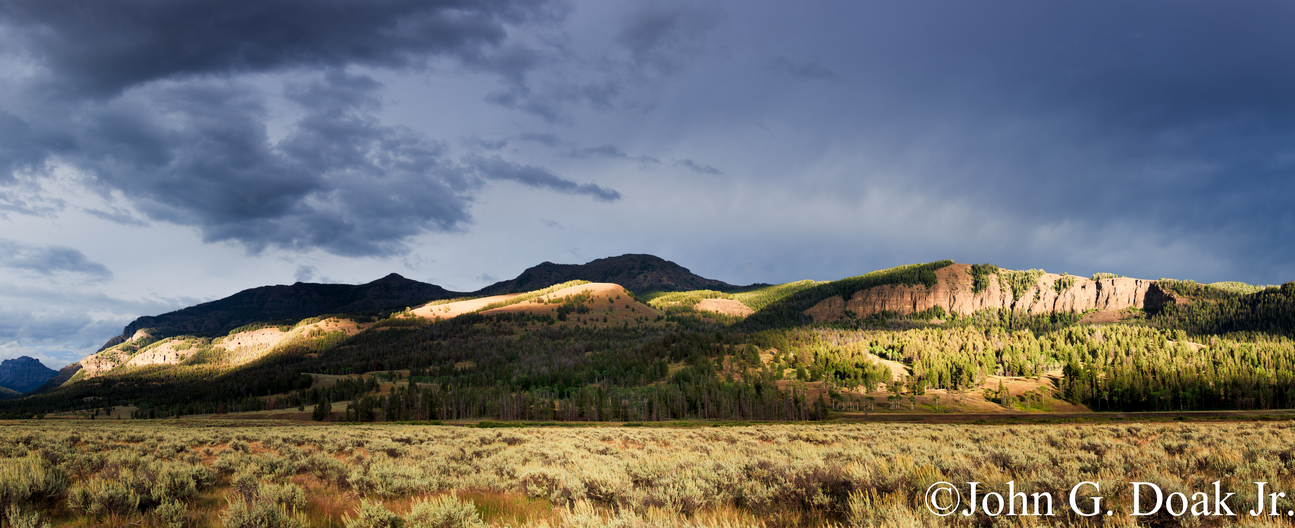 Lamar's Lament
Catalog #13011
Location: Wyoming
Taken on another evening in the Lamar valley, there was a nice combination of light and dark as the sun was setting in the clouds.
A panorama shot with a 50mm lens.
Untitled
Catalog #13027
Location: California
Another beautiful day sailing in the bay area, the fog closing in and surrounded by small birds. What could be more perfect.
The image was captured with a 5DMKIII at 35mm.
Untitled
Catalog #13024
Location: Colorado
The image is an HDR shot with a 5DMIII.
Moose's Path
Catalog #13012
Location: Wyoming
A beautiful morning in Tetons. Filled with fog and beautiful clouds, I stumbled upon a Moose's trail to the water when taking this shot. Unfortunately I'm not quite as adept at walking through 3ft of mud, so I lost one shoe and had to hobble around with one foot in the mud and a muddy sock in my teeth (as to not muddy up the inside of the shoe).
An HDR panorama show with a 50mm lens.
Teton Sails
Catalog #13013
Location: Wyoming
Jackson lake has a cute little marina where boats sail out of. I was needing a good cup of coffee (and somewhere to wipe some mud off at) and decided that the fog was too good to let go by.
A single shot HDR using a 16-35mm.
Don't Badger Me
Catalog #13014
Location: Wyoming
I barely spotted this guy out of the corner of my eye out in a large field I was driving by. I followed him around for about 30 minutes trying not to burn up (no sunscreen yet). I just couldn't let the little guy go without a portrait, its rare to see badgers during the day. He eventually led me back to a hole where after some careful consideration, I decided not to stick my camera.
A single shot using an 800mm lens.
Clara Wicks
Catalog #13019
Location: California
A nice little diversion to a long drive, Mt. Shasta was kind enough to show her presence to me. This panorama was my first experiment with a Gigapan Epic. If you zoom in close enough you can see their is enough resolution to clearly see the winds blowing the snow on the mountain. The picture is named after the last speaker of the Shasta language.
This is a panorama shot with a Gigapan Epic.
Saints View
Catalog #12005
Location: Vatican City
Taken from the top of St. Peters, this little picture comes to you via great pains in my knees! Its a long walk up leaning sideways inside the large dome that makes up the central area of St. Peters. But the view was fantastic and I hope you agree.
This is an HDR panorama.
Artificial Splendor
Catalog #13022
Location: Colorado
On a nice trip with my family, I ended up on a ranch that had around 30 artificially dug ponds. The landscape was gorgeous it was just the right time of year.
The image is an HDR panorama shot with a 5DMIII. It has been edited to remove a barely visible cable (which never the less bothered me).
California Gold
Catalog #13025
Location: California
The California coastline has magnificent views. This picture is a combination of dozens of pictures. The resolution is high enough to zoom into rocks and see the birds that are standing on them, or the people standing on the cliff face.
The image is a panorama shot with a 5DMIII at 100mm, using neutral density filters to even out the waves.
2013
Images from the 2013 Collection.